On Christmas morning, I woke up with a bad case of sniffles, a blotchy face, and a nose as red as Rudolph's. Of all the days that my allergic rhinitis chose to be at its worst, it had to be on Christmas Day. Oh, the irony!
Luckily for me, I have
The Face Shop's Power Perfection BB Cream
to save the day, and my face. This BB Cream,
if you can remember
, was sent to me by my husband some two months ago. Marketed as a 'total solution BB cream', the Power Perfection BB Cream is designed to address most skin problems (i.e. roughness, dryness, uneven skin tone) while giving the face a natural, flawless coverage.
Power Perfection BB Cream.
My Power Perfection comes in a pretty 40 gram bottle. And I say pretty because it's in my favorite color, purple. For those who prefer a smaller size, there are 20 gram bottles available, too.
Purple is love!
If you've been following my blog for quite some time, then by now you already know my preference for pump bottles. This one is just to my liking - easy to control, and you get just the right amount of BB cream with every pump. Plastic cap is sturdy and secure, too.
Pump, check.
Like most TFS products, the Power Perfection's box has literature in both English and Hangul.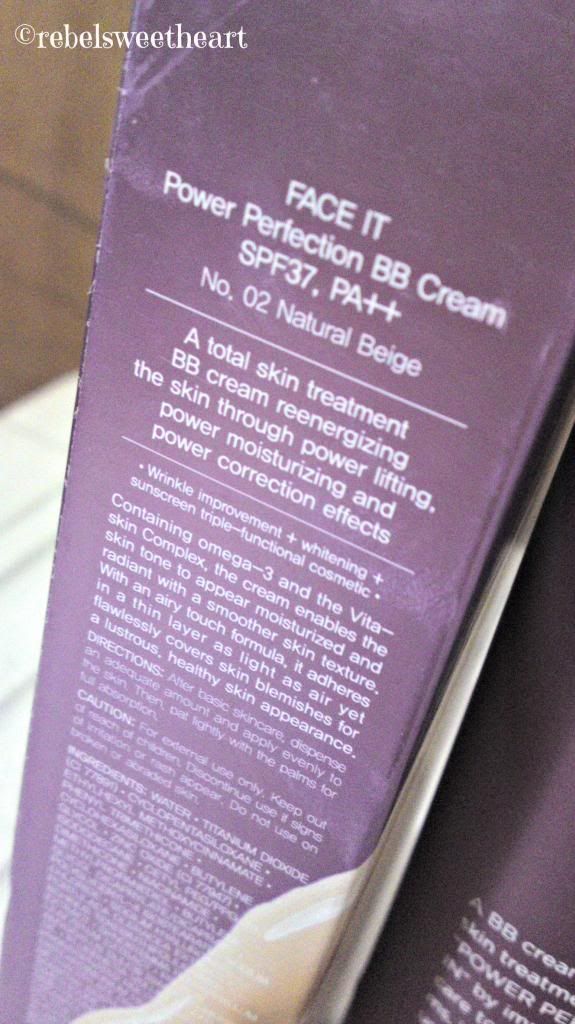 Yay, English!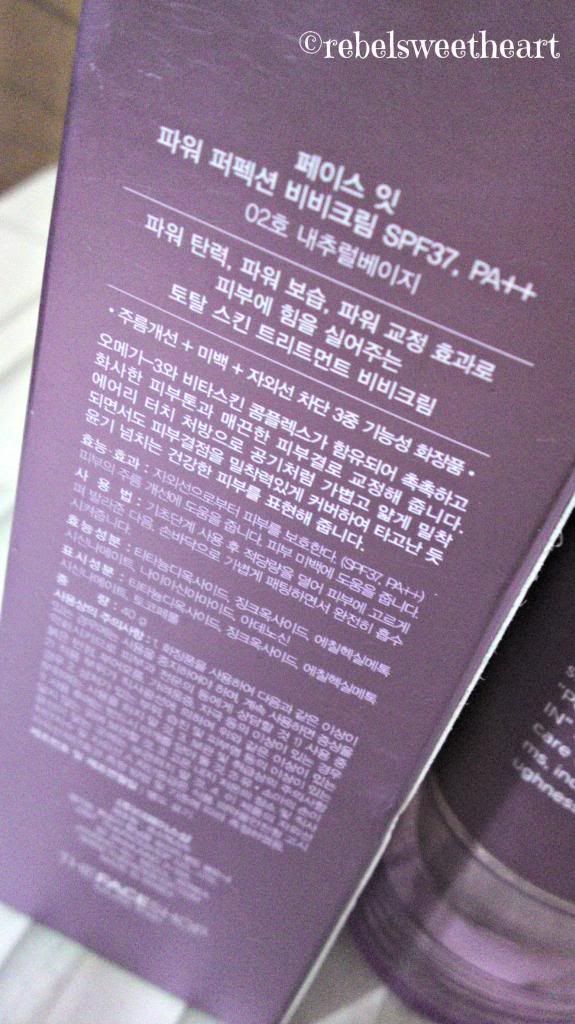 Goal for 2013: Formally learn Hangul.
Now here's how the BB cream looks like. Take note that this is the
02 Natural Beige
variant. (The other variant being the 01 Light Beige, for those with even fairer skin.)
I'd say it matches my skintone perfectly.
Although the Power Perfection BB cream has a thicker consistency than most of the BB creams I've tried, it's very easy to blend, and just a little amount goes a long way. My only gripe is that it dries very quickly, so you have to work on spreading it as fast as you can.
Coverage is pretty good - medium to full, depending on how you'd like to wear it. It has a semi-matte, slightly dewy finish, with a texture that's very lightweight and not icky on the skin.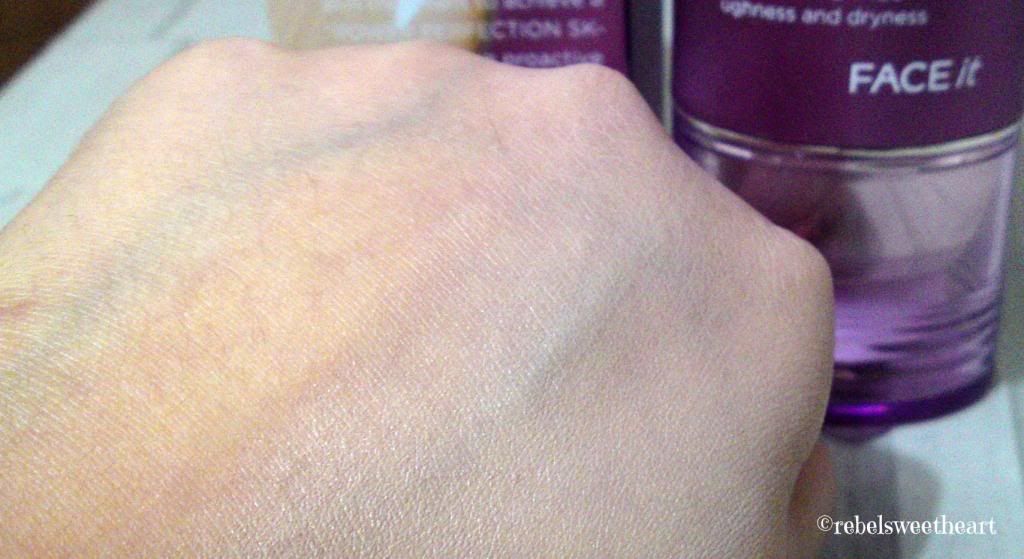 Left without BB cream, right with BB cream.
It has impressive staying power, too - a good ten hours and the BB cream is still sitting pretty on my face. I reckon this BB cream would suit even those with oily skin. And for those with sensitive skin like me, you'd be glad to know that this BB cream gave me no allergies whatsoever.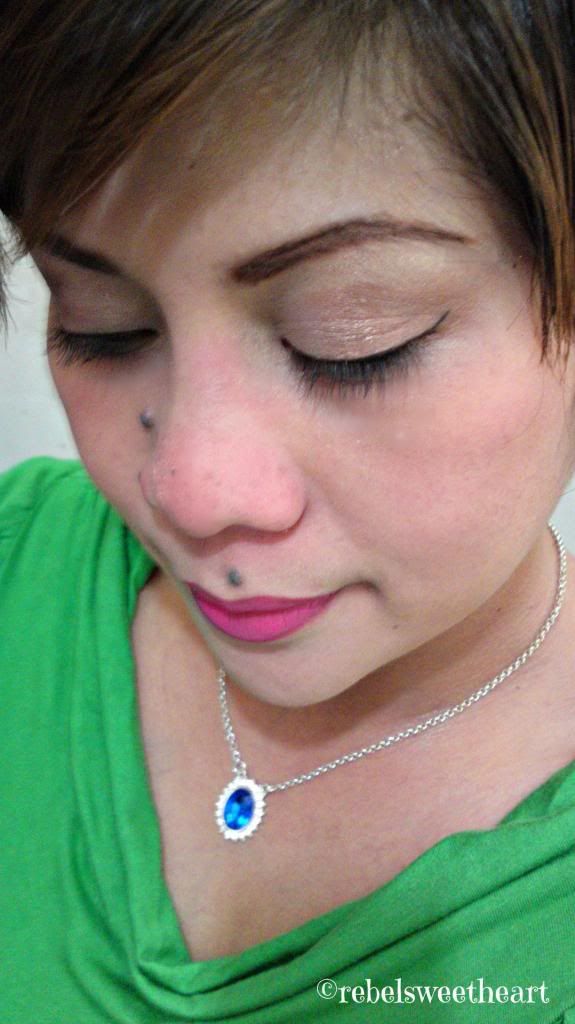 Where's Rudolph? Haha!
In Korea, the Power Perfection BB Cream retails for 22900 Won. That's more or less Php 900 when converted. Here in the Philippines, it's priced around Php 1500 (correct me if I'm wrong), which seems pretty fair considering Philippine taxes and shipping from Korea. It's a tad more expensive than Etude House, but still way cheaper than Missha's. And that's a fact. :)
What I love:
Pretty (purple) and sturdy packaging
Excellent shade match
Medium, buildable coverage
Non-sticky, lightweight
A little goes a long way
Light, powdery scent
Semi-matte, slightly dewy finish
Stays on for ten hours at the very least
Safe for sensitive skin
SPF 37/PA++
What you might not like:
Dries quickly
It looks like this will be my last post for the year, so please allow me to indulge in a little self-love. Haha! Here's my last Face of the Day for 2012.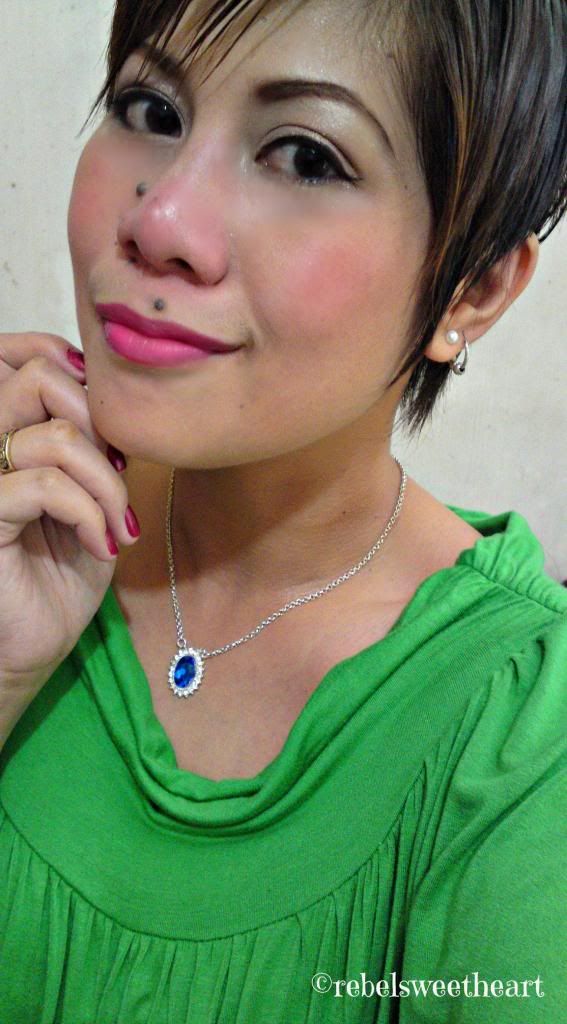 Products used:
FACE: The Face Shop Face It Velvet Skin Primer, Benefit Erase Paste in Medium,
The Face Shop Power Perfection BB Cream in Natural Beige
EYES: Urban Decay Ammo Eyeshadow Palette, elf Liquid Eyeliner in Black,
Avon Ultra Luxury Brow Liner in Dark Brown, Missha Viewer 270 HD Curl Mascara in Black
CHEEKS: Tony Moly Cheek Tint in Cherry Pink
LIPS: Jordana Lip Liner in Rose, Etude House Shini Star (Taemin) Lip Balm,
NYX Soft Matte Lip Cream in Addis Ababa
It's been a crazy, beautiful year for me, and I couldn't thank you enough for staying with me for the past 12 months. I am looking forward to yet another wild and wonderful year with all of you.
Happy New Year everyone!
Ever onward to 2013!