When my cousin-in-law and Youngsuk unni (his Korean wife) came home for a quick vacation about two months ago, they brought me
pasalubong
from my ever-so-thoughtful husband. Goodies from
The Face Shop -
because as it turns out, there's a TFS store just a few blocks away from where he lives.
Clockwise L-R: Milk Plus Shower Cologne, Velvet Skin Primer,
Power Perfection BB Cream, Mango Seed Miniature Set.
Out of these four items, the only thing that I asked him to buy was the primer. My
L'Oreal Base Magique
was about to hit the pan back then, and of course, I had to have a replacement in stock. Now I specifically asked for the Face It Whitening Makeup Base because of its SPF, but the husband couldn't seem to find that variant on the shelves. He ended up buying the
Face It Velvet Skin Primer
instead.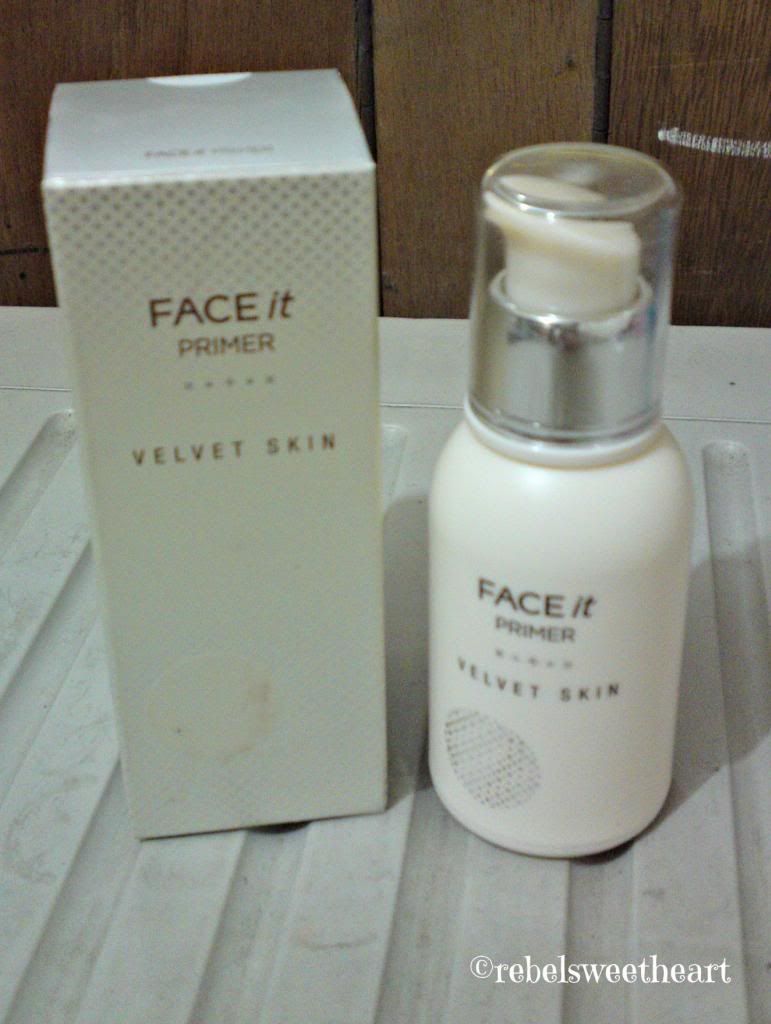 Velvet Skin.
It comes in a 30mL pump bottle, which I prefer over jars or squeeze tubes. The pump is easy to control, which allows you to get just the right amount of the product. One pump actually, is all you need. Plus points for the cap - sturdy plastic, and fits securely.
Pump it!
The box has literature in both English and Hangul. If you can read the latter, then good for you. I can't, so hooray for the English translation.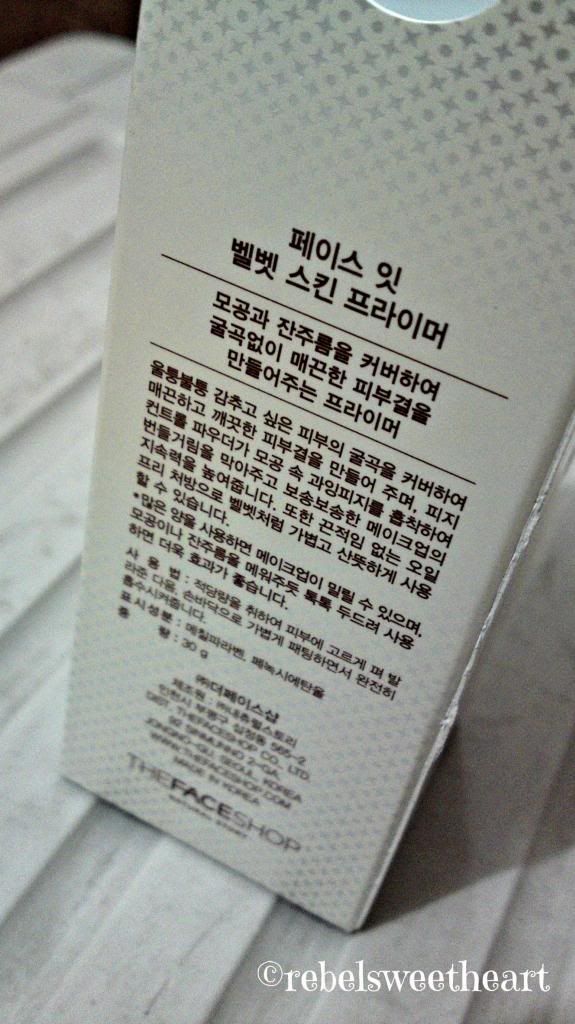 Dangsin Hangul ilgeul su? (Can you read Hangul?)
I'll have mine in English, thank you very much.
Now from what I understand, this primer and its counterpart, the Face It Moisture Fitting Primer are supposed to be in gel form. However, the Velvet Skin Primer is a tad runny - to the point that it's almost watery.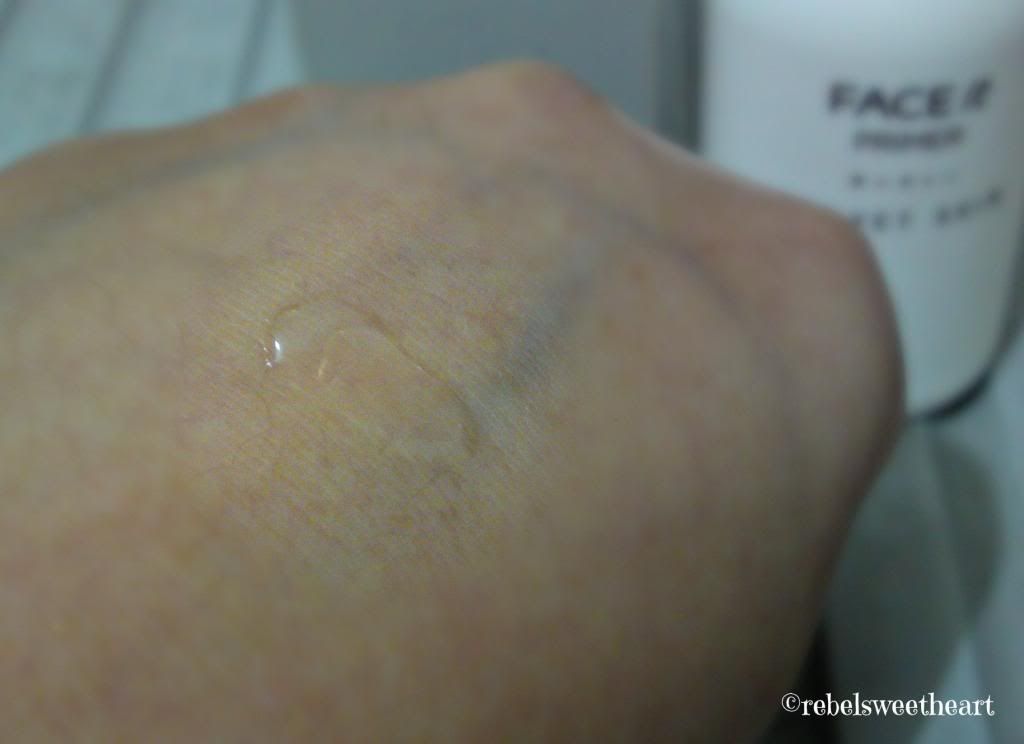 Clear, gel form? Clear, alright.
It's lightweight, non-sticky, and is easily absorbed by the skin. It has a nice cooling sensation once applied, and as you spread it out, it leaves the skin with a lovely, dewy glow.
A few seconds after application.
It does a fine job of prepping the skin, smoothing fine lines, and keeping your makeup intact for hours. Given my sensitive skin and the primer's silica content, I had no adverse reaction to this product - no itchiness, breakouts, or anything of that sort. Best of all, this product smells really, really nice.
The
Face It Velvet Skin Primer
retails for
14900 Korean Won
- that's around Php570 when converted. I'm not sure how it's priced locally because the last time I went to The Face Shop branch in Festival Mall, they didn't have this in stock.
What I love:
Hygienic, sturdy packaging
Non-sticky, lightweight
Easily absorbed by the skin
Conceals fine lines, smoothens skin
Smells nice
No adverse reactions when used (i.e. breakouts, itchiness)
What you might not like:
Watery consistency
It contains silica and silica dimethyl silylate - take caution if you're allergic to silicon.
Now I know you're curious about the Mango Seed thing. It's a new product line released last Autumn, with Seohyun and EXO-K as its endorsers. I haven't opened 'em yet, but expect me to share the experience once I've given that baby a try. :)