This week's edition of Spazz Saturday is all about fitness!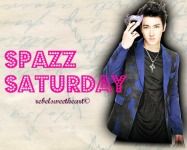 Oh yes. I've been bitten by the
Zumba
bug. And because I want my Zumba sessions to be more fun and interesting, I searched online for workout routines using Kpop music. This is how I stumbled upon
Crazy Sock TV
- the official YouTube channel of fitness instructor
Bradley Sutton
.
Bradley is a licensed fitness instructor who specializes in the
Zumba Fitness
program. From a "265 pound sumo wrestling out-of-shape guy with no dance experience", Bradley became the 185 pound, healthy, dance fitness maniac who wears crazy socks and the
Coolest Shoes
.
Based in San Marcos, California, Bradley currently holds classes at the ShadowRidge Dance Center every Tuesday and Sunday.
Check out this
'I am the Best'
workout routine by Bradley and friends - one of my favorites in his YouTube channel.
Bradley's Zumba videos, along with my low-carb, high-fiber diet PLUS A!Life Control are the perfect partners in the quest to regain my long-lost size 2 figure. Haha!
Oh, and you may now vote for your favorite photos in the
Take Control, Live the A!Life promo!
Voting period opens today, and
ends on September 28, 2012.
The two photos with the most 'likes' will be selected by the panel of judges and event organizers. Winners will be announced on
October 5, 2012
.