Ohh, Baby, Baby Giveaway Hop sponsored by
The Shopping Duck
is taking signups now. This blog hop event will take place from April 1, 2012 to April 15, 2012. Come join the fun!
There are two ways to join:
FREE – Post about the giveaway hop on your blog using this button, and the text mentioned at the beginning of this blog entry.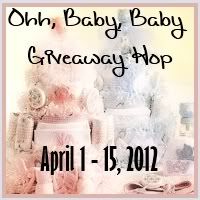 $5 Grand Prize Fee – send $5 to ebay@losito.net via paypal. You can then choose one social media option to be included in the grand prize giveaway. This will be listed in The Shopping Duck's blog.
Take note of the following:
Dates of event: April 1 12:01 PM EST to April 15 at 12:01 PM EST (All links must be posted by 10 AM on April 1st. All other links posted after the said time will not be included.)
Minimum Prize: $25 – (Special mention for prizes worth more than $50.)

This giveaway hop is for baby, maternity, and related products.


Link up here
once you've blogged about the giveaway, or have sent the joining fee. All emails about the event will come from cecilepryor@yahoo.com. Sign-ups will close on March 20, 2012.